Storm alert now is not a problem at all. Thanks to the burze.dzis.net portal you can get such information to your mobile phone using the PromoSMA.pl service. We talked to the creator of the storm service, Grzegorz Ruciński; he tells us more about the details of his project here.
PPromoSMS – Hello Mr Grzegorz, first, I'd like to ask you to describe your system briefly. What functionalities can the users expect of burze.dzis.net?
Grzegorz Ruciński – Hi Mr Tomasz, thank you so much for inviting me. The website deals with a very important issue connected with the weather, namely, warning against dangerous weather conditions, especially lightning. The users who visit our website get a few very useful features at their disposal, these are, among others, maps with marked lightning points, maps of weather alerts or automatic text or email alert system concerning dangerous weather conditions.
PSMS – Is archived weather data available for the users as well?
GR – Yes, we grant our users access to the registered lightning strikes, as well as the function of checking whether there were any weather alerts marked in a given spot. This function is especially useful for mobile users, and those who are not able to analyze maps, for any reason. You can, of course, find useful information in the form of Q&A on the website, concerning what the lightning strikes really are (below you can see a map monitoring lightning strikes in the area of Europe on an ongoing basis; the map is from the burze.dzis.net website).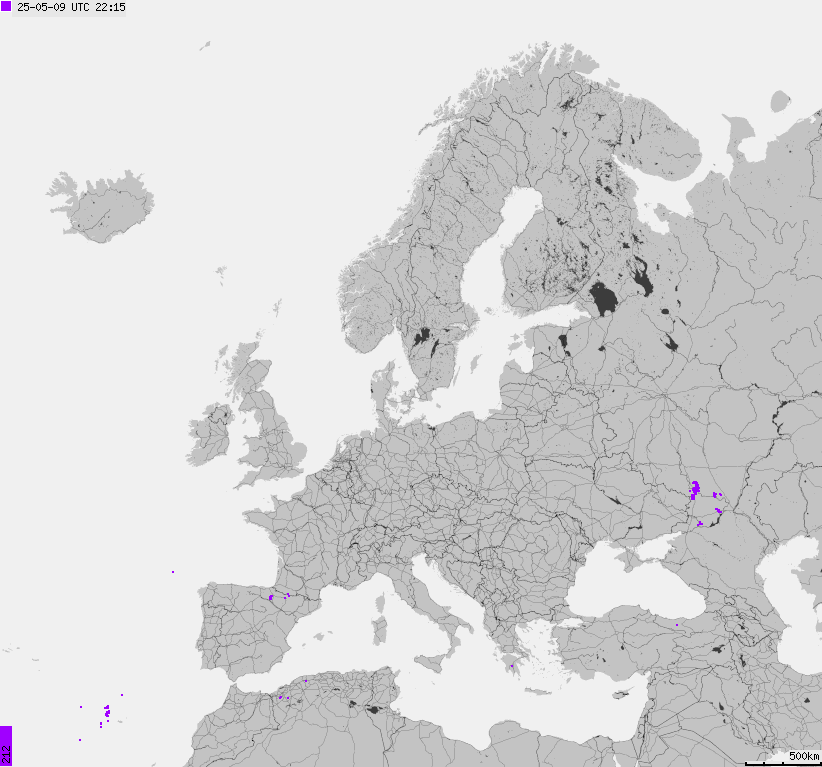 PSMS – What motivated you to create this kind of website?
GR – The beginnings were small and might seem trivial for many. I created the website for my own needs, just to have a system that will inform me whether in the area I live and work in, there is going to be a storm; I could prepare myself and not get wet . I felt I was missing a free website with this sort of content. I wasn't trying to promote it or even recommend, however, with time more and more users stumbled upon the site accidentally (via browsers, among others) and started recommending it to other users and promoting it on their own websites. As I was observing bigger traffic, I realized that the hosting resources weren't enough and the page was gaining an increasingly bigger number of users. I decided to give it more of my attention and keep developing new functions – often reported by the very users themselves.
PSMS – What made you use our mass texting solution in your project?
GR – I was thinking for quite some time about the function of storm alert via text. I was trying to build a warning mechanism whose functionality would be based on free SMS getaways, but this approach turned out to be wrong. These solutions have their limits which may make the alert function unstable. I couldn't allow that. That's why I decided to choose your solution – it guarantees stability and offers a lot of freedom to the user at the same time, with no additional obligations.
PSMS – You've emphasized many times that the website has the trust of its users. What do you think is the most important component influencing this?
GR – It'd be the best to ask this question to the users themselves – why do they visit and recommend the website? I can assume that the most important thing is the reliability of the information. Part of the users is fascinated with lightning strikes and that's what draws them to the site. Others use it because they feel better knowing that there's a system that will alert them when the danger is coming.
PSMS – Burze.dzis.net is developing constantly. Recently, new maps where you can follow the lightning strikes in the area of Holland, Croatia, Czech Republic or Germany appeared. What new surprises are you preparing for your users in the near future?
GR – That's true, some new maps were added recently. They're mostly added the request of the users and for sure there'll be more. However, the most important functionality I've been working on lately is automatic forecasting. Those who know the subject also know it's a very complex issue. At the moment this option is definitely not complete, but the results will be better and better with time and I finally will be able to offer the users this new functionality on the website.
PSMS – Thank you so much for talking to us, and we encourage all our readers to visit the burze.dzis.net website.